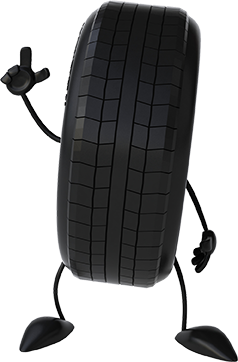 INCREASE THE LIFE OF YOUR TYRES USING THESE SIMPLE TYRE MAINTENANCE TIPS
Your tyres do need a little care. Following the below-given tyre care tips will not only help you save a lot of expenditure on tyres wear and tear but also provide you with better driver & passenger safety & great fuel efficiency. A few minutes of your time on the following tips will keep you on top of Tyre maintenance.
The tyres need to be properly inflated. Keep a keen check on the tyre's inflation. Accurately inflated tyres increase the tread life and fuel efficiency. It also eases the vehicle handling and greatly enhances the driver's safety. On the contrary inaccurate inflation may lead to decreased braking and handling capabilities resulting in structural failures like blowouts and tread separations. It could also result in excessive heat formation thus reducing the life of your tyre.
Keep checking your tyres for any unusual wear and tear. Periodically check them for any signs of embedded objects, punctures, cracks, and bulges. Ensure to get them rectified if any such signs are found.
Take care of your new tyres
It is advisable to ride at a moderate speed and avoid lean angles while riding for first few miles initially. Rash acceleration and braking can damage your tyres if they are not properly heated.
The periodic check of the valve of tyre-rim assembly is always advisable. Make sure the valves are replaced as soon as any cracks or break-in develop into them. Also, keep a good check on the valve cap placement and protect them against dust.
Maintaining speed is important
Exceeding the speed ratings of the tyre or the maximum speed of the vehicle (whichever is less) may lead to sudden, unexpected failures & should always be avoided. The speed ratings are stamped on the sidewall of the tyres.
Ensure that your vehicle is furnished with the tyre size specified by the vehicle manufacturer. Also, make sure to fit the tyre in the direction marked on the tyre with an arrow. When installing the tyres, ensure you install a set of tyres in one go. The new tyres should be installed at the rear end while the older tyres should be moved in front of the vehicle. It reduces the chances of instability and vehicle handling issues.
Your tyres are made to bear a limited load. Exceeding this limit may result in tyre failures, ultimately resulting in serious injuries. The load limits are embossed on the side walls of the tyres.
Always make sure you always have a Stepney handy. The Stepney should be properly inflated and in ready to use condition. You might need it anytime, even without any prior notice.